Photography, art and travel have been my main passions forever.

I have worked as a professional photographer, graphic designer, technical writer, business systems analyst, computer cleaner, rodeo rider, city bus driver, dental lab cleaner, web site programmer, door-to-door encyclopedia salesperson, unemployed world traveler, CEO of Wired for Success, Inc., mink skinner, truck driver, bartender, bookkeeper (I was TERRIBLE!), book seller, waitress, and dog kennel cleaner (Dachshunds) to mention a few of my past jobs, and I feel this diversity has contributed a great deal to my art. I also travel the world with my camera.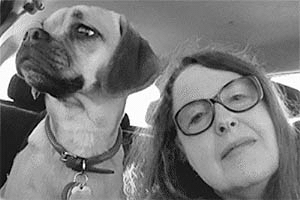 Road trip selfie with my co-pilot,
Bridgett the Puggle.